Many people ask about transportation. Will you fly everywhere? Are buses safe? Will you rent cars? Have you looked at those tickets where you have to keep going around the world in one direction?
The first point is that people should try not to ask so many yes/no questions. The second, and more important, is that a round-the-world trip involves a lot of transportation types. This posting is devoted to all those.
Planes:
While stories exist of people traveling the world without ever getting on a plane, that won't be us. Having said that, I'm generally opposed to planes because they are expensive and force you to skip potentially interesting places and Tara is generally opposed to planes because of their environmental impact. While we will travel from continent to continent and to some remote locations inaccessible by other means (Angel Falls, Madagascar, etc.) using planes, we will mostly travel by other means.
We did explore round-the-world tickets. They come in all types, though very few of them require you to keep going in one direction like they used to. Most have mileage restrictions and may not allow you to pass through certain airports more than a few times or to take more than a certain number of flights. All expire in one year. Because we hope not to fly that much, don't really want to lock in the cities from which we'll be flying (changing dates with RTW tickets isn't hard, but changing cities often incurs a fee), and aren't sure about the one year time limit, we have decided for now that these tickets aren't right for us. For great information, I suggest starting on the
WikiTravel
site. Probably the most important point is that it is probably cheapest to buy a ticket starting in the UK (and you may physically have to buy it in the UK). The US is one of the most expensive places to start. Many vendors specialize in putting together individual flights to create a round the world ticket, and may be able to do it cheaper than you. I would recommend
Boots 'N' All
and
Round The World Tickets
.
Airtreks
is another popular one. A few more are mentioned on the WikiTravel site above.
I suggest using
kayak.com
to find international flights, though I always check the other big ones to make sure (
orbitz
,
expedia
,
travelocity
). One important note is that one-way flights are generally half a round trip flight overseas, unlike in the U.S. where you often pay a premium for one-way.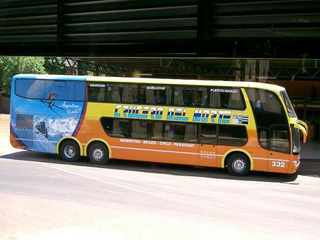 Buses:
We expect to spend a lot of time on both local and long distance buses. In South America, long distance buses are common and come in varying classes. We will try all types and find the right balance of cost and comfort. In other parts of the world, buses are less common, though we'll still use them where possible. Some of the bus lines have websites, some don't. From past travels, it has always been easiest just to buy at the bus station, but we'll let you know if we find otherwise.
Tr
ains:
Almost non-existent in South America and Africa, but somewhat common in Asia. We would also like to take the Trans-Siberian Railroad if we have the money left to do so. Booking depends on the train service, but I've always had the most luck finding a travel office at the train station and letting them do the work. It normally costs the same and is significantly easier if you don't speak the language of the country. Local trains are harder to figure out. Asking a local is always easiest.
Boats:
Tara and boats don't mix very well, but we'll have to take a few. They are the most common transportation in the rain forests, and a common way to go between some places such as Colombia to Panama. (The overland route is not passable and also inhabited by FARC guerillas.) Most of the rain forests boats are part of pre-arranged tours and the others we'll generally book through travel agents.
Rental car:
We don't plan to have a car very often, but in certain countries we may explore on our own with a car. Rental cars can be a cheap way to see a lot in a short time. I prefer
priceline.com
for rental car bookings, but they won't always have international locations.